As part of the entry process for DK's Poker Tournament at PubCon everyone has to write a post about a charity that they like – I think that's a great idea. So here is my post.
Best Friends Animal Society is all about kindness to animals. Their goal is to get the number of animals killed in shelters down to zero. When Best Friends started up in the eighties, about 17 million animals were killed in shelters every year. This number is now down to about 5 million. It's great to see the number has fallen but there is still a long way to go.
Best Friends takes a very hands on approach to saving animals. They have a sanctuary in Utah where they care of roughly 2000 animals. The main goal is to get these animals treated and ready for adoption, but for those animals that are un-adoptable due to medical or other problems, the sanctuary provides them a permanent place to live. They also work with their members and other groups to provide spay/neuter clinics, shelter and adoption agencies.
My wife and I are big animal lovers and currently have two cats that we adopted from a shelter.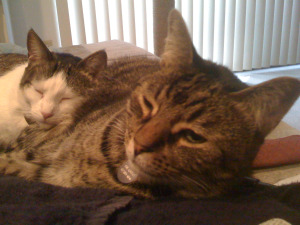 Beside supporting groups like Best Friends, there are other things you can do to help to reduce the number of animals being killed in shelter – make sure you get you pets spayed or neutered, and if you are going to get a new pet, go to a shelter instead of buying one from a pet store.